Educational Resources
Cancer Genomics Consortium Educational Resources
NGS has been widely used to identify germline variants for diagnosing hereditary cancer syndromes. However, it may also detect mosaic variants that may be acquired due to clonal hematopoiesis of intermediate potential (CHIP). Which of the following cancer genes is most likely to be involved in CHIP?

A. TP53
B. DICER1
C. PTEN
D. BRCA2
Correct answer: A

CHIP is associated with aging in hematopoietic stem and progenitor cells and the most commonly variants have been seen in DNMT3A, TET2, ASXL1, JAK2 and TP53. TP53 is one of the most commonly tested gene in hereditary cancer panel, therefore, skewed allele frequency in TP53 may indicate an event of CHIP, which needs to be differentiated from Li-Fraumeni syndrome. PMID: 31827082
According to the American College of Medical Genetics Laboratory Technical Standards and Guidelines, how long should images from neoplastic FISH cases be retained?
A. Two weeks after the report has been signed
B. Three years
C. Ten years
D. Twenty years
Correct Answer: C
In general, "critical records" for cytogenetic testing are kept for 20 years. However, there is variability depending on the technology utilized and reason for referral.
Current guidelines specify the following retention times:
Processed patient specimens and/or cell pellets – 2 weeks after report has been signed

Stained slides (e.g., G-banding) – 3 years

Neoplastic FISH Images – 10 years

Images (chromosome analysis/non-neoplastic FISH) – 20 years

Array – recommended that primary data be stored for at least 2 years and the analysis file + final clinical report be kept for "as long as possible"
(Shao, et al., 2021)
A female with a history of AML post transplant with a male donor has presented with the following karyotype. Which of the following is true based on the karyotypic abnormality?
A. Associated with a good prognosis for the patient
B. Auer rods are commonly present
C. Basophilia is commonly present
D. Monosomy 7 is a common secondary finding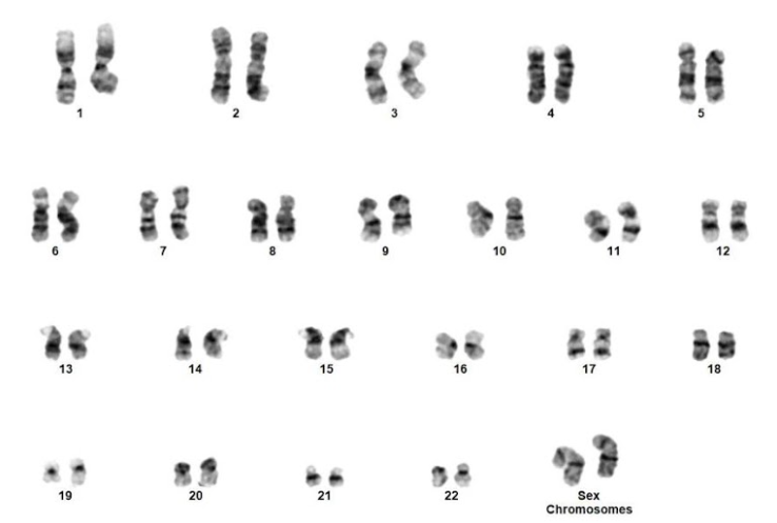 Correct answer: D
The inv(3)(q21q26) is often associated with a fusion between RPN1 and MECOM (MDS1 AND EVI1 COMPLEX LOCUS). It has been described in AML and MDS. Monosomy 7 is a common secondary abnormality. It is associated with a negative impact on prognosis.
The following CLL FISH panel result is from a 77 year old man referred due to an elevated white blood cell count. Based on the representative images, which statement is correct?
A.This result is consistent with mantle cell lymphoma
B.This result is associated with a good prognosis in CLL
C.This result is not specific for CLL
D.This result is associated with the most adverse prognosis in CLL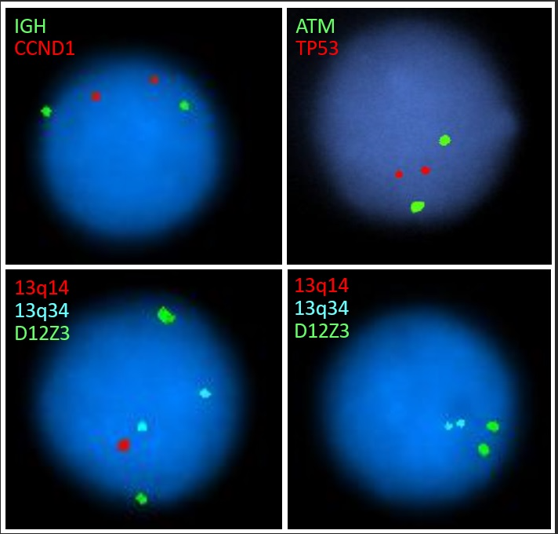 Correct answer: B
This patient has both heterozygous and homozygous deletion of 13q14. This is a common finding in CLL. Patients with a 13q deletion as the sole abnormality detected by FISH generally have the longest survival time. Prognosis for patients with a homozygous 13q deletion is not significantly different than for a heterozygous 13q deletion (PMID: 22139735). Some newer data suggests that larger deletions may have less favorable outcomes (PMID: 34522485).