2023 Annual Meeting Industry Opportunities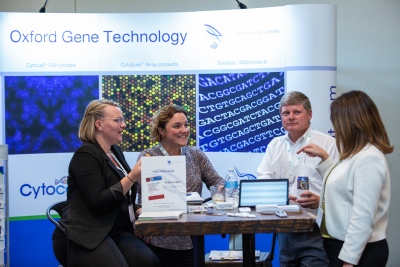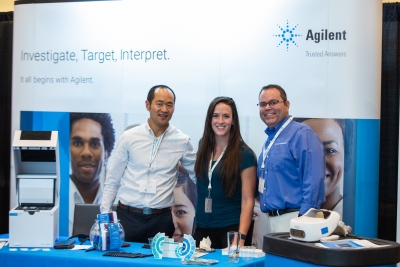 Why Support the CGC Annual Meeting?
CGC allows for access to a growing number of cytogeneticists and molecular geneticists in an intimate setting that's just not possible at larger conferences. As a Platinum sponsor, we were able to have several experts present their preliminary validation data at a breakfast forum available to the full conference which has been a game changer for us. CGC truly put us on the map with this key target audience.
Warren Robinson, Chief Commercial Officer, Bionano Genomics

SciGene was a Platinum Level sponsor of the CGC meeting. We conducted a pre-conference workshop on our lab automation that was very well attended by director level decision makers. Most of the workshop attendees came to our booth for a demonstration during the conference and business discussions. Based on the success of the meeting, SciGene plans to be a continuing sponsor of CGC meetings.
Jim Stanchfield, President and CEO, SciGene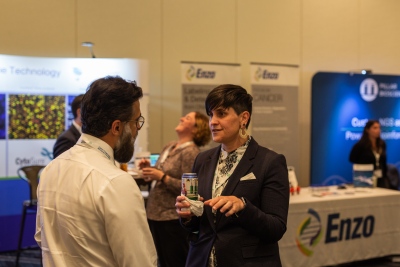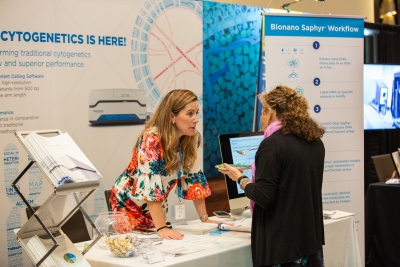 Industry Support Information
The Cancer Genomics Consortium (CGC) will hold its 14th Annual Meeting August 13 - 16, 2023 in St. Louis, Missouri. More than 330 onsite participants and more than 100 virtual representing 13 countries attended CGC 2022. In the late summer of 2023, we will return to our successful hybrid (in-person + virtual) format that will feature in-person platform presentations, industry symposia, workshops, networking sessions, exhibitor hall, poster sessions, round table discussions, and other interactive opportunities with our industry supporters.. We will also provide virtual content streaming, live virtual Q&A, and opportunities for both PACE and CME credit..
2023 Anticipated Program Highlights:
Clinical Applications of Genome Sequencing, Microarray and Genome Mapping Approaches

Validation and Quality Control of Clinical Genomic Assays

Clinical Interpretation of Sequence and Copy Number Variants

Bioinformatics, Clinical Pipelines, Databases, and Data Sharing for Publication

Workshops to Showcase Challenging/Teaching cases

Billing, Reimbursement, Laboratory Advocacy

Improving equity in access to genomic testing

Round table Discussions on the latest Topics relevant to Clinical Genomics Laboratory
The CGC Annual Meeting is a preeminent annual gathering for laboratorians, clinicians and researchers with a shared interest in early adoption, performance and interpretation of leading-edge technology for cancer and constitutional genomics. The collegiality of the CGC provides a unique educational opportunity for all to advance clinical diagnostics using genomic technologies (FISH, microarray, massively parallel sequencing, etc.) and to improve the data processing that accompanies these technologies.
The meeting will include invited presentations from leading clinical laboratory directors, geneticists, oncologists, pathologists, and bioinformaticians focusing on the clinically important developments in cancer genomic diagnosis, prognosis, and management. Sessions are planned for data interpretation, information sharing, database development, and establishing best practices in reporting and follow up testing.
Vendors interested in exhibiting at the 2023 CGC Annual Meeting should e-mail Karla Gay (karla@cancergenomics.org). Details on levels of support can be found below.
2023 CGC Support Opportunities Are Offered At The Following Levels:

| Level | Contribution | General Session Showcase Presentation Time |
| --- | --- | --- |
| Gold | $5,500 | Option to participate in Science Cafe |
| Platinum | $12,000 | Fifteen minutes |
| Diamond | $20,000 | Thirty minutes |
Exhibitor Options at each level of support include:

Exhibit booths

Commercial shown on monitors in Foyer and Exhibit Hall

advertisement in program book

Enduring materials: Presentations saved to CGC YouTube Channel

Attendee bag insert

Logo placement on the CGC Website and on the virtual platform

Custom link on the virtual platform

Registration list of attendees who opt in to share their information

Posters in Exhibitor Poster Session

Limited number of full registrations with each level of support

Social media promotion
New in 2023 for Exhibitors:
Science Café




Lead retreival options for booth staff
Small private meeting space rental available
Additional marketing options in the works